Rocky Ridge Mad Rock Jeep Wrangler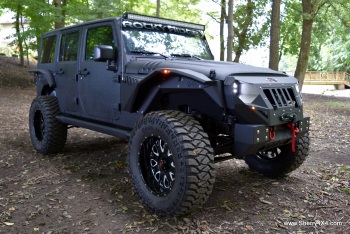 If you already enjoy the Jeep Wrangler, you will absolutely love the Rocky Ridge Mad Rock Wrangler. This lifted Jeep is a fun twist on the original and features various conversions that make it even better for off-roading and adventure than the original Wrangler is. This is just one of the many Rocky Ridge conversions available at Sherry 4×4. We specialize in lifted Jeeps and trucks to give you the best-quality vehicles that are already lifted so you don't have to worry about using a lift kit yourself. In addition to the Mad Rock Wrangler, you can find other Rocky Ridge conversions on the Wrangler, including the K2, Pinnacle, and Summit.
The Mad Rock Wrangler is actually the only Rocky Ridge model with the Mad Rock package, meaning that it will stand out from the crowd. It features a suspension lift kit to make room for the large wheels that set your Wrangler apart from others on the road, give you a better view, and help you tackle tough terrain. There are also numerous interior and exterior enhancements designed to give you the best possible experience behind the wheel.
To take the performance of the Rocky Ridge Mad Rock Wrangler to the next level, it includes Pure Drive Technology. This innovation allows Rocky Ridge to lift the suspension of the Wrangler. While many lift kits reduce the drive and ride quality, Pure Drive Technology actually improves these things while still providing the capabilities and appearance that drivers want from a Jeep, whether it is lifted. Most systems work against the Jeep Wrangler's natural traits while Pure Drive Technology works with them, providing exceptional results.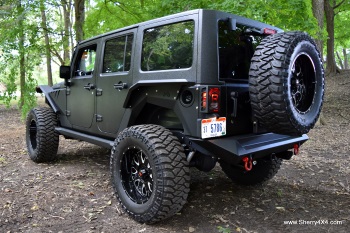 We chose to offer Rocky Ridge vehicles because of the brand's reliable history of enhancing a range of Jeeps and trucks to get them ready for any situation, whether it involves rough terrain, off-roading, or poor weather conditions. The family-owned company has been converting high-quality lifted vehicles more than 30 years, during which time it has shown meticulous attention to detail. The Mad Rock Wrangler is the perfect example of this innovation and reliability. It maintains everything drivers love about the Jeep Wrangler but adds a professionally installed lift kit designed by top engineers for optimal performance, styling, and height.
Sherry 4×4 is a customer-oriented Rocky Ridge dealership that offers full service. You can visit us to buy your lifted Mad Rock Wrangler and come back for maintenance and any necessary repairs. We offer an incredible range of Rocky Ridge Jeep and RAM products with excellent conversions. We aim to make sure that you have an excellent shopping experience whether you are close to our Piqua, Ohio, dealership or across the country. Since we can deliver your vehicle to any state, we make sure to provide the latest information on our website, including photos, videos, vehicle descriptions, prices, and history reports for every single lifted truck and Jeep, including our Mad Rock Wranglers. If you have any questions, we make it easy to contact our dealership, via either a phone call or our online chat.
3.5" Rocky Ridge Sport X Suspension Lift Kit
RR 3.0 Monotube Shocks
High-Performance Coil Springs
High Steer Conversion
Geometry Correction Bracket
Replacement Sway Bar End Links in Front and Rear
Adjustable Track Bar Brackets in Front and Rear
Rocky Ridge Pure Drive Technology
Brake Line Relocation Bracket
Custom Tire and Wheel Package
Mickey Thompson MTZ 37×13.5×20 Tires
20-Inch Black Powder Coated Wheels
Four-Wheel Alignment
Road Force Balancing
Complete System Recalibration
Interior and Exterior Additions
Full Stealth Armored Coating on the Exterior
Heat Reduction Hood
Grumper Front Skid Plate
Fab Fours Grumper Front Bumper
Fab Fours Rear Bumper
Power Retractable Side Steps
LED Turn Signals
50-Inch LED Light Bar Mounted to Windshield
Brake Light Extension Bracket
Synthetic Rope Winch for 8,500 Pounds
Off-the-Door Tire Carrier
Red D-Rings in Front and Rear
Powder Coated Steel Inner Front Fender
Powder Coated Steel Fenders with Flares in Front and Rear
Switch Pod Mounted to Pillars with Illuminated Rocker Swatches
Rocky Ridge Rear Light Guards
Front License Plate Brackets
All-Weather Floor Mats
All-Weather Cargo Liner
Nylon Web Roll Bar Straps with Molded Grip Handles
Warranty and Maintenance
Care and Maintenance USB Drive
36,000 Miles or 3 Years of Warranty Coverage
Rocky Ridge Signature Badging
Rocky Ridge Windshield Banner
Available Premium Options
LED Directional Headlights
Dual Exhaust with Black Ceramic Tips
Snorkel System
6-Switch Panel with Voltage Meter
Custom Leather Seating in Black or Black with Red
Rocky Ridge 8-Speaker LED Soundbar