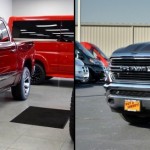 The wait is finally over. The lifted 2019 RAM lifted trucks are finally in, and you can get yours now. These trucks have some cool features that weren't available in the 2018 model, so you'll definitely want to check them out. If you're a fan of the RAM, expect to feel even more love for the 2019 model. It's better than ever before.
2019 RAM Truck – What's New?
The RAM 1500 has long been known as the most comfortable ride you'll ever experience in a truck. The 2019 model keeps the comfort the truck is known for while adding some extras you won't want to miss. The new RAM is more powerful and lighter than previous models, and it also has some new technology.
Let's start with towing capabilities. The 2019 model can tow and carry more. In fact, it has best-in-class V8 towing, with a rating of 12,750 pounds. The new model also [...]