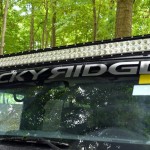 Most people don't think about adding a light bar to their car since their headlights and taillights will offer more than enough lighting. That being said, if you happen to go off road or drive through areas with very poor lighting, a light bar can be an excellent way to ensure you see all of the obstacles around you. Because of this, light bars are particularly popular on 4x4s and other vehicles designed for off-roading.
When Is the Best Time to Use a Light Bar?
You will obviously only want to use a light bar at night, in storms, or in other situations where there is almost no light outside. Because of the potential for the bright lights to distract those around you, it is best to use a light bar if there are no other drivers around or they are prepared for this. Off-roading is perhaps the best use for light bars, particularly when [...]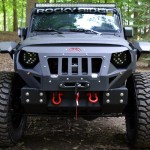 If you decide to drive a Rocky Ridge Jeep Wrangler, you will notice that one of the many conversions that the company does to create its off-road-ready SUVs is using Pure Drive Technology. This is a unique method of lifting a Jeep's suspension, and it can make a huge difference in the ride quality.
Understanding Pure Drive Technology
The most basic description of Pure Drive Technology is Rocky Ridge's revolutionary method for lifting a Jeep Wrangler's suspension, but it is much more involved than this. Thanks to Rocky Ridge's innovation, you will get the off-road capability and appearance that is associated with a lifted vehicle. Unlike most lift kits that hurt the drive and ride quality, Pure Drive Technology actually does the opposite. Instead of sticking to the industry standard when it comes to lifting a vehicle for off-roading, Rocky Ridge dared to innovate and created a system that works with the Jeep Wrangler's natural [...]