While Jeeps are incredibly capable, some people simply want to be able to do more with their SUVs. Custom lifted Jeeps from Sherry 4×4 are the perfect solution, as they have the added height you need to tackle obstacles on or off the road. You can drive with confidence along that trail with a lifted Jeep from our dealership, even if there are branches or rocks in the way.

Extensive Selection of Lifted Jeeps
You may think you want a custom lifted Jeep but be surprised to discover that we already have a new or used lifted Jeeps at our dealership that meets your needs. Our selection is extensive, including a range of Jeep models as well as multiple Rocky Ridge conversions. Because of this, it is actually incredibly likely that you won't even need to have your Jeep custom built and can simply choose one right off our lot, without having to wait.
Or Get Your Custom Built
For those who know exactly what they want and don't see it in our inventory, don't worry. At Sherry 4×4, we have a special relationship with Rocky Ridge and experience with conversions. Together, these things allow us to offer custom-built Jeeps so you can choose the lift kit, the color, the Jeep model, the Rocky Ridge conversion, and more. Just let us know what you want in your custom lifted Jeep, and we will do the rest. Even if you are planning to get a custom lifted Jeep, look at our inventory to get a feel for the options you will have available. With a clearer idea of what you want out of your lifted Jeep, the ordering process will go much more smoothly. Best of all, we offer very reasonable prices, particularly considering you are getting a customized vehicle that no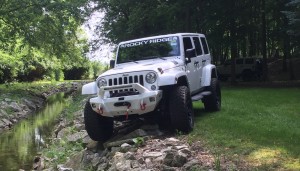 one else on the road will have.
Financing and Delivery
One of the great things about Sherry 4×4 is that we not only offer custom lifted Jeeps but also can bring them right to your home, no matter where in the country you live. This way, you don't have to drive your lifted Jeep on the normal roads and rack up miles to get it home. Save it for the off-roading adventures that you have planned. Because we deliver, that also means that you can get your customized lifted Jeep no matter where you live, even if there aren't any lifted Jeep dealers near you.