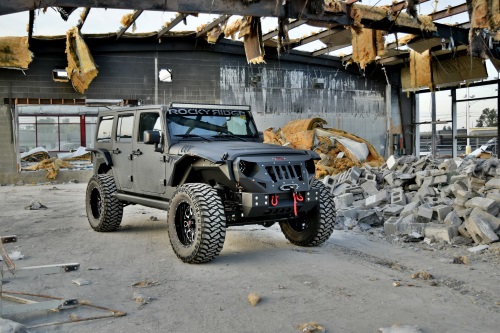 Searching for that lifted truck to meet your needs? Whether you want to go off-roading with your vehicle or just appreciate the versatility that the extra height delivers, you can find the right model at Sherry 4×4. In addition to a range of lifted trucks on the lot, we also offer custom lifts for those who can't find what they are looking for.
Check Out Our Inventory or Begin Customization
If you already know that you want a custom lifted truck, then what are you waiting for? These trucks make it easy to tackle tough roads, drive through snow and rain, and just give you the extra ride height that makes it easy to see over traffic. No matter how you plan on using your lifted truck, you can find it at Sherry 4×4. Check out our inventory online or come visit us in Piqua to see our selection in person. You may spot the lifted model you've always dreamed of owning, and if not, our friendly team will work with you to get a custom lifted truck.
Get Your Exact Requirements
It is highly unlikely that you will actually need to get a custom lifted truck since our selection at Sherry 4×4 is so vast. We have both used and new models with a range of lifts converted by Rocky Ridge and SCA Performance. Most of these are conversions based on the RAM 1500 and Jeep Wrangler, but there are other lifted trucks and jeeps available as well. Even the Rocky Ridge conversions we sell are varied, including their K2, Muscle Truck, and Alpine conversions, among others. With both new and used options, you are likely to find what you need.
If you don't see the lifted truck that is right for you on our lot at Sherry 4×4, we can help you with a custom one. Between our conversions and our connections with Rocky Ridge and SCA Performance, we are well equipped to get you the exact lifted truck to meet your specifications.
We Bring the Truck to You
Many of our clients buying custom lifted trucks will visit our Piqua, Ohio, dealership directly, just like you would with any other car dealership. That being said, we can also deliver your lifted vehicle, whether or not it is custom. This is our way of making it easier to buy lifted trucks, even in parts of the country where the pickings are slim and the models can be hard to find. It only takes a phone call or email to get a very accurate delivery quote so you can decide if that service is right for you. We deliver to all 50 states.
We Offer You Financing
At Sherry 4×4, we understand that not everyone can pay for their custom lifted truck all at once. We offer financing so you can get an automotive loan. To help ensure you always get the best rate possible, we work with local credit unions and national lenders to find the best rates. For further savings, we also take trade-ins. We can even directly buy your lifted truck depending on its age and condition – no trade-in required.
Custom Lifted Trucks For Sale