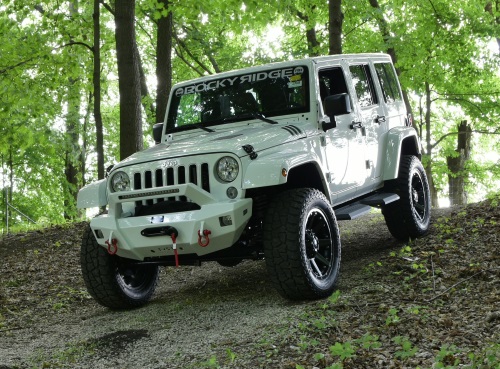 Find the lifted Jeep you want for your drives around Long Island at Sherry 4×4. Our dealership has a varied inventory of lifted vehicles you can count on, including both new and used models. We also offer delivery so you don't have to worry about finding lifted Jeeps in Long Island; order from us and get your SUV sent to you.
We Deliver the Lifted Jeep to You
At Sherry 4×4, we understand that finding a lifted Jeep can be a significant challenge, especially in certain areas of the country. We offer delivery to Long Island as well as anywhere else in the United States. That way, you are able to conduct the entire transaction online or over the phone instead of having to drive hours to another area of the state in order to buy your lifted Jeep.
Our Lifts Are the Highest Quality
No matter the lifted Jeep you look at in our inventory at Sherry 4×4, you can count on it to be a high-quality vehicle. The vast majority of our lifts are from Rocky Ridge, a converter that we trust thanks to its approximately three decades of experience lifting trucks and Jeeps. The lift kits added to the Jeeps in our inventory work with the natural features of the Jeeps instead of fighting them. This way, you get the best possible combination of a capable SUV, improved suspension, and raised height.
Best of all, the lifted Jeeps that we offer are still covered by warranty. If you were to add a lift kit to a new Jeep you bought, this would void the warranty. But all of our lifted Jeeps and trucks come with a Powertrain Limited Warranty that lasts 5 years or 60,000 miles and covers repairs to the relevant powertrain components like the driver system, engine, and transmission.
We Offer Financing as Well
One of our goals at Sherry 4×4 is making it possible for drivers around the country to own a lifted Jeep. This is part of the reason we offer delivery, and it is also why we make it easy to get financing. Our dealership works with multiple lenders to help you find the best possible rate without putting in any effort on your part. Just visit our website and fill out our financing application or give our finance department a call.
Browse Our Inventory
To get a better idea of what lifted Jeeps Long Island drivers could enjoy, check out our inventory online. You can sort the vehicles with filters or just browse through the entire list. You will discover a range of options, and while most of our lifted Jeeps are based on the Wrangler or Wrangler Unlimited, you also get a lifted Cherokee Trailhawk or another model. To make it easier to make your purchase from afar with confidence, all listings on our inventory are detailed and include multiple pictures of various angles, inside and out.
Contact us or check out our inventory to get the ball rolling on your lifted Jeep that Long Island residents will be jealous of.
---