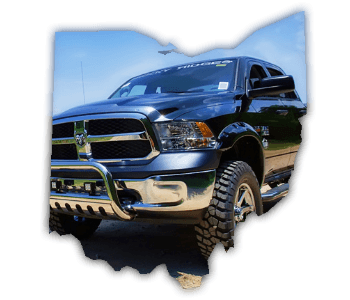 Lifted trucks do more than just help you stand out while driving around town. These vehicles are perfect for going off-road, thanks to their enhanced ground clearance and other conversions. The only issue is that many times it can be a challenge to find your ideal lifted truck. That's why Sherry 4×4 offers the lifted trucks Dayton, Ohio drivers will love with just a short drive.
Browse an Extensive Selection
Browse our extensive selection of lifted trucks on the lot or do so from the comfort of your home with our online inventory. There are truly limitless options for lifted trucks Dayton, Ohio residents can own thanks to our ability to custom build you a truck with some help from our partners. Our selection features numerous Rocky Ridge models, the conversion specialist who is most respected in the industry for their decades of experience and high-quality adjustments. We offer both new and used lifted trucks, a great way to ensure we can meet everyone's requirements and budget.
Enjoy Excellent Financing
Our financing department at Paul Sherry 4×4 works with multiple local credit unions and national banks to ensure we can offer you the best rates. Our online financing application makes it easy to get lifted trucks Dayton, Ohio drivers can enjoy without going over their budget. Our finance manager will take a look at your application and contact you before doing anything, so filling out the application won't impact your credit score.
Sell Your Lifted Truck
Since we sell used lifted trucks in addition to new ones, we are always looking to buy older models. We can evaluate the lifted trucks Dayton, Ohio residents bring to us and either buy them or offer a trade-in that will get you a significant portion off of your new lifted truck. You can get the ball rolling on an estimate by filling out the trade-in form online or talking to our team.
Finding Our Dealership
Getting to our dealership from Dayton is a breeze. Our address is 8607 North County Road 25A in Piqua. It will only take you about a half hour to get to our dealership from Dayton and the majority of the drive is along I-75 North. Once you reach Exit 83, follow it to County Road 25A in the direction of Piqua. From there, you will turn left onto North County Road 25A, which is also Sidney Road. Continue along North County Road and you will spot us on the left. If for some reason you can't make it to the dealership, or if you just don't know how to get your new lifted truck home, we also offer deliveries. This allows us to offer lifted trucks and other 4x4s to drivers across the country, including areas that don't typically have access to these off-roading models.
With our lifted trucks, Dayton, Ohio residents can enjoy all their favorite outdoor activities and visit remote trails without a concern. Remember that all of our lifted trucks have an extensive warranty as well to give you peace of mind.