Lifted Truck Dealer In New Mexico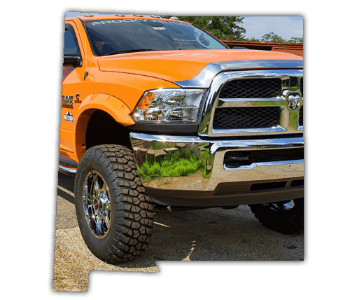 New Mexico's off road parks and landscape make owning a lifted truck a one-of-a-kind experience. Sherry 4×4 wants to make sure you find the right lifted truck to meet your demands. Our dealership offers both new and used lifted trucks for sale with available delivery to anywhere in New Mexico. Browse entire inventory of Rocky Ridge trucks and used lifted trucks, or find more information below about what makes us different from other lifted truck dealers in New Mexico:
WALK-THROUGH VIDEOS
The initial difference customers notice about our website is the exclusive walk around videos. Every lifted truck & Jeep in our dealership's inventory has a custom walk around video showing you every feature and aspect of the truck. This way, you can see and know everything about each lifted truck, or lifted Jeep, before you see it in person. We find this to be the best tool for those in New Mexico who cannot visit our Rocky Ridge dealership in person.
COMPLETE PHOTOS
Although video can be an efficient way to browse lifted trucks, photos are still the proffered way for people to shop online. We make every effort to provide shoppers with every angle available to provide you with the most visual information possible. If there is a specific feature that you would like a close up angle of, we can easily send it to you. Simply contact our sales staff, and we will be sure to get you everything you need to shop for a lifted truck regardless of where your located in New Mexico.
EXTENSIVE DESCRIPTIONS
When browsing for lifted trucks for sale in New Mexico, you'll find that there are many trucks and lift kits to choose from. And most lifted truck dealers in New Mexico will not provide you complete information in hopes that you'll make the drive to the dealership in person. At our dealership, we provide all important information so you can make an educated decision right from your home.
LIFTED TRUCK & LIFTED JEEP SELECTION
Browsing through general New Mexico car listings can be a time consuming process when only looking for lifted trucks for sale. Our lifted truck and Jeep inventory is a one stop shop for many makes and models of lifted trucks and Jeeps. We carry a large variety of used lifted trucks as well as a complete line up of Rocky Ridge trucks.
WE BUY LIFTED TRUCKS & JEEPS
Looking to upgrade or sell? We pay top dollar for all lifted trucks & lifted Jeeps. Since we are an exclusive lifted truck dealer, we are always looking to add to our extensive inventory. To see what your truck is worth, please fill out our trade in form.
EASY PURCHASE PROCESS
At our dealership, we take care of all the purchase details. When purchasing a lifted truck from us, we can provide you with financing, warranty registration, titling, and all other paperwork required for purchasing. For more details about financing, please visit our lifted truck financing page for complete details.
HASSLE-FREE PICK UP OR DELIVERY
You can choose to fly or drive to visit our dealership to drive your new lifted truck or Jeep back to New Mexico. Delivery may be more affordable than you think, see our lifted truck delivery page for complete delivery details.
---