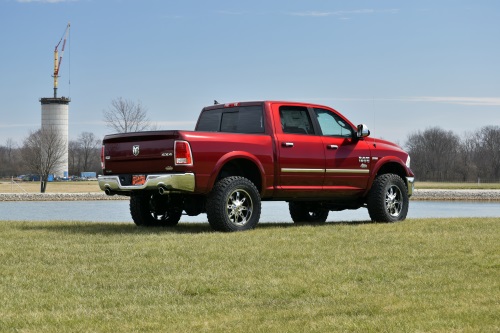 Sherry 4×4 is one of the few dealerships to offer new raised trucks, giving you the off-road capabilities you need on your favorite pickup. Between our extensive selection of new models, the range of conversions, the warranty, and our amazing customer service, it is no wonder drivers from Piqua and the surrounding areas come to Sherry 4×4 for all their lifted truck needs.
Amazing Selection
All of our new raised trucks at Sherry 4×4 have been converted by Rocky Ridge, a highly trusted conversion company with 31 years of experience creating reliable lifted trucks and Jeeps. Each of our lifted trucks is based off of a 2017 RAM 1500 trim, but the trim itself varies, as does the conversion package. The result is plenty of unique trucks to choose from. You can choose a raised truck that began life as a RAM 1500 Express, Laramie, Limited, Big Horn, or other trim. There is a similar range of Rocky Ridge conversion choices available, including the K2, Altitude, and Alpine, among others.
Warranty for Peace of Mind
You are right to do your research regarding the warranty before buying a raised truck as in most cases, adding a lift kit to a vehicle will void the warranty. At Sherry 4×4, we understand that concern and take the necessary precautions. That is why we offer a Powertrain Limited Warranty on all of our new raised trucks that will last 5 years or 60,000 miles and cover repairs for all covered components of the powertrain, such as the drive system, engine, and transmission. We've even made this warranty transferrable in case you decide to sell your raised truck in a few years.
We Help You with Financing
While raised trucks do cost a bit more than their standard-height counterparts, Sherry 4×4 is equipped to help you handle the increase in price. We offer financing via a range of national banks as well as local credit unions. Because we work with multiple financial institutions, we can get you the best possible rate for your auto loan, and our finance manager provides personalized assistance. We also make it easy to apply for financing via our online form or talking to us on the phone or in person.
Don't Live in Ohio? No Problem
Unfortunately for those in search of a raised truck, they can be a challenge to find, especially when new. While you can typically find at least a small handful of used lifted trucks in a city, the same cannot always be said of new ones, and even then, the selection is limited. That is why at Sherry 4×4 we can deliver your raised truck to any state. This way, drivers from across the country can get all the benefits of a raised truck without having to drive hours and hours or across state lines to the nearest dealership with them. Instead, you can conduct the entire transaction from the comfort of your home and get your new raised truck delivered right to your door.
Check out our online inventory of new raised trucks to get a feel for our offerings or visit our dealership in Piqua, Ohio to see them in person.
---