Why Buy Your New Lifted Truck from Sherry 4×4
July 31, 2017

Posted by

Ryan
Comments Off

on Why Buy Your New Lifted Truck from Sherry 4×4
If you are in search of a lifted truck, consider buying it from Sherry 4×4. Our dealership has an excellent selection of lifted trucks as well as lifted Jeeps. Each of these conversions was carefully done to meet strict requirements and deliver the best possible lifted trucks. Discover just a handful of the reasons to get your lifted vehicle at Sherry 4×4.
Your Warranty Is Not Voided
Before you buy a lifted truck or lift a truck yourself, pay close attention to the warranty. In most cases, as soon as you make a serious modification such as lifting the vehicle, your truck's warranty is voided. That can cost you thousands of dollars down the line in repairs and maintenance that are no longer covered.
None of this is a concern when you buy from Sherry 4×4. That is because all of our lift jobs are done within the warranty. In other words, when you buy a lifted truck from Sherry 4×4, you will still get to enjoy the regular warranty coverage.
You Get an Extra Warranty
To increase the savings and confidence you get from your warranty, the lifted trucks at Sherry 4×4 actually extends it to cover additional accessories. This means that you get a Powertrain Limited Warranty with 5 years or 60,000 miles of coverage along with additional coverage for accessories involved in the lift. Now you can drive with confidence knowing you won't have to spend excessive money on expensive repairs.
Premium Components that Last
Not all lifted trucks or lift kits are created equally. At Sherry 4×4, we only sell models lifted with premium components that were designed to last. We understand that the typical lifted truck goes off road on a regular basis, tackling tough terrain and other challenges. Because of this, we opt for the best materials we can, increasing your truck's ability to handle those obstacles and get you over rocks and more without damage.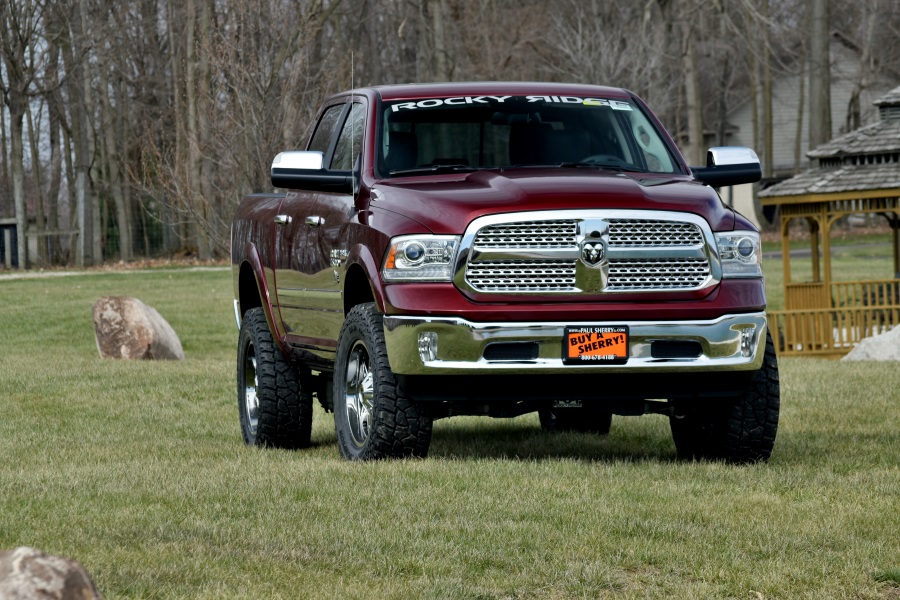 Converted by the Experts
Not only are all the components used in the lifted trucks at Sherry 4×4 premium and designed to last, but they are installed by experts. Our lifted trucks are Rocky Ridge conversions, a company with more than 30 years of experience lifting trucks and Jeeps. In that time, they have discovered the best conversion methods as well as the ideal materials to use, ensuring a high-quality product that can stand up to whatever you throw its way.
Financing, Delivery, and Excellent Customer Service
In addition to all of the above, buying your lifted truck from Sherry 4×4 gives you our attentive customer service. We will gladly answer your questions in detail and walk you through the truck-buying process.
We also offer financing to help bring your lifted truck within reach of your budget. Our dealership can even deliver! That means that even if you are on the opposite end of the country from us, our team at Sherry 4×4 will gladly sell you a lifted truck. With our help, you can get a lifted truck even if there are none for sale by you and do so without leaving your home.