Average Cost of a New Lifted Jeep Wrangler
April 30, 2019

Posted by

Ryan
Comments Off

on Average Cost of a New Lifted Jeep Wrangler
Before you buy a lifted Jeep Wrangler, you should make sure you have a clear idea of how much the vehicle will cost. Many people make the mistake of just focusing on the sticker price, overlooking the fact that the average cost of any lifted Jeep Wrangler includes other fees as well as taxes. Learn about the fees you should also account for when determining what you will expect to pay for your lifted Jeep Wrangler.
Lifted Jeep Wrangler Sticker Price
The biggest chunk of the typical cost for a lifted Jeep Wrangler will be the sticker price. This varies based on the specific model that you choose as well as whether it is new or used. The price can depend on the configuration of the Jeep Wrangler, the Rocky Ridge lift package you select, and whether your chosen model has any additional features included.
You can get a feel for the sticker price of a lifted Jeep Wrangler by visiting the Sherry 4×4 dealership to explore the current models or by browsing the online inventory. The typical cost of a new lifted Jeep Wrangler ranges from $45,995 to $57,795 for 2018 model years and $61,995 to $69,995 for 2019 model years. Of course, the sticker price of models will vary at any given moment based on the lifted Jeep Wranglers currently available.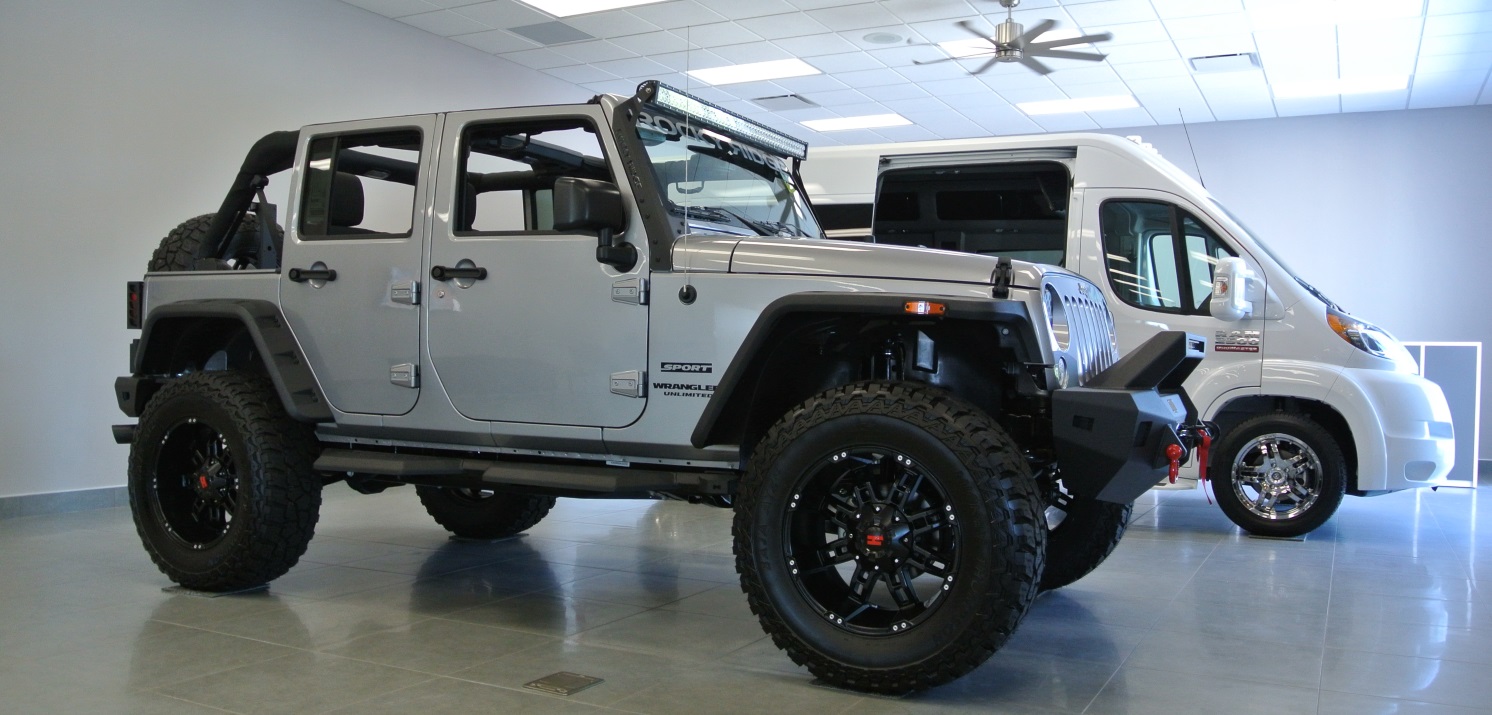 New Jeep Taxes
The next factor to consider in the cost of your lifted Jeep Wrangler is the tax. You will note that the sticker price does not include sales tax. 5.75 percent is an average state sales tax on any lifted Jeep Wrangler purchase. You may also have to pay county taxes of up to 2 percent. The average tax on vehicles can only go up to $700, so even if the above percentages come out to higher than that, you will not pay more than $700 in sales tax.
Lifted Wrangler Registration and Documentation Fees
You will also need to pay attention to whether additional fees associated with buying a car are already included in the price. Dealerships can charge fees for their assistance with the proper documentation such as titles, registration, and more. Speaking of registration, you may also have to pay a separate registration fee on your lifted Jeep Wrangler.
Some dealerships will include the documentation and registration fees in the price they quote you while others will not. Reputable dealers will always make it clear which of these is the case, so you know exactly what you are paying.
Other Possible Fees
There are also other potential fees associated with buying a lifted Jeep. You may have to pay some sort of dealership fee to account for the space the vehicle took up on the lot as well as the resources used to care for it, such as man hours and cleaning or repairs. Dealerships may charge these fees as a lump sum or charge individual fees like a floor plan or advertising fee. Destination fees are also fairly common and will vary. There are also potential fees to cover anti-theft devices, extended warranties, and other upgrades available at the dealership such as accessories.
Other Costs to Keep in Mind
Do not forget to consider the other costs associated with owning a vehicle. These include insurance, gas, and fees associated with maintenance and repairs. You may also have fees for parking.
New Lifted Jeep Wrangler Financing
Unless you can buy your lifted Jeep Wrangler in cash outright, then the cost of the vehicle will also be driven up by financing. Sherry 4×4's financing department always works with you to get the best rate, but you will still have to pay interest over the life of your auto loan. The higher the interest rate, the pricier the Wrangler will be over the course of the loan. Generally, you can keep extra costs associated with financing low by improving your credit score, opting for a shorter loan term, and maximizing your down payment.
Sherry 4×4 Offers Clear Pricing
When you choose to buy your lifted Jeep Wrangler from Sherry 4×4, our team will always be upfront about the pricing and fees. We will let you know what costs other than the sticker price and sales tax to expect and what those fees are for. We can also work with you to help you find a lifted Wrangler within your budget, with additional assistance provided by our financing department.