Official Rocky Ridge Jeep K2 Overview
June 21, 2016

Posted by

Ryan
Comments Off

on Official Rocky Ridge Jeep K2 Overview
Rocky Ridge is known for its efforts to customize various trucks and other highly capable vehicles, including off-roading SUVs. Among its various customizations are the K-2 models, which are available for nearly every type of vehicle that Rocky Ridge works with. You can enjoy a K-2 with the Jeep Wrangler, Ford F-150, Chevrolet Silverado, GMC Sierra, Ram 1500, or Toyota Tundra. As with all other Rocky Ridge models, the K-2 is the result of more than 30 years of experience converting vehicles to meet the needs of drivers everywhere. The exact configuration and features of your Rocky Ridge K-2 vehicle will depend on the base model, although they all share plenty of features.
Starting with the Lift Kit
One of the key features of any K-2 is the Rocky Ridge Sport Suspension Lift Kit, which will vary slightly based on the model. The Jeep Wrangler K-2, for example, has the 3.5-inch version. This includes cam alignment bolts, adjustable track bar brackets in the front and rear, a brake line relocation bracket, a geometry correction bracket, a higher steer conversion, e-coated high-performance coil springs, replacements for the sway bar end links, and nitrogen-charged twin tube shocks.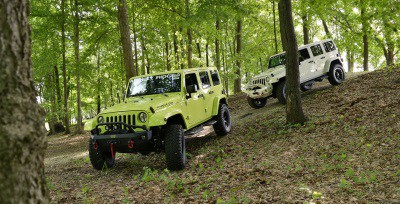 The F-150 K-2 is similar, but it has the 6-inch version of the Suspension Lift Kit. This has the Rocky Ridge front strut tower extension and cross-members in the front and rear, along with ES 9000 rear shocks, compression struts, and an extension bracket for the brake line. A nearly identical kit is on the Silverado K-2, Sierra K-2, Ram K-2, and Tundra K-2, although some also have an add-a-leaf rear spring.
Interior and Exterior Enhancements
Depending on the Rocky Ridge K-2 you choose, there will also be a long list of interior and exterior enhancements. The F-150 K-2, for instance, adds a black bull bar featuring LED lights, wide oval black step bars, black ceramic exhaust tips, pocket style fender flares in matte black, and stainless steel dual exhaust. The Silverado K-2 has most of these but adds a matte carbon fiber interior trim, a Flowmaster muffler, and a black designer grille. Most have similar items, but the Jeep Wrangler K-2 has even more additions, such as full armor bumpers, an 8,500-pound synthetic rope winch, and all-weather floor mats.
Badging
You will always be able to recognize a Rocky Ridge K-2 thanks to its unique badging. Every K-2 conversion has a Rocky Ridge windshield banner and a Rocky Ridge tailgate emblem in black. This is just one of the many ways the Rocky Ridge K-2 stands out from the crowd.
Custom Tires and Wheels
As part of the K-2 conversion, the Rocky Ridge team upgrades the tires and wheels of the trucks, as well. Models have 4-wheel alignment, road force balancing, and a complete system recalibration. The wheels are swapped out for 20-inch ones with a black powder coating while the tires become 35-inch all-terrain ones. The only exceptions are the Ram K-2 with its 37-inch tires and Wrangler K-2 with its 18-inch wheels.
Every Rocky Ridge K-2 also gives you a care and maintenance USB drive to help take care of your vehicle, along with a 36,000-mile/3-year warranty for peace of mind.