Posted by

Alysia W.
Comments Off

on Your Guide to SCA Performance Apex Lifted Conversion Truck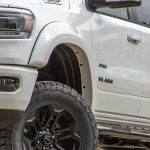 Are you looking to purchase a lifted truck? Well, look no further than the Apex lifted truck from SCA Performance. This guide will walk you through the various features and information of the SCA Performance lift kit. With all of the benefits of a RAM truck and the high-quality upgrades from SCA Performance, it is no wonder that more customers are buying the Apex-lifted Truck.
What is the Apex Lifted Truck?
SCA Performance is a conversion company that specializes in lift kits for trucks. The Apex lifted truck is one of their top-selling lift kits. When you lift a truck with the SCA Performance Apex package, you are lifting a RAM 1500/2500 Crew Cab. The RAM 1500/2500 is a high-performing truck on its own, but with the Apex lift kit from SCA Performance, you can take on the more difficult terrain and overcome larger obstacles.
What Lift Does SCA Performance Use?
There [...]