Sherry4X4: A Premium Dealer For Rocky Ridge RAM Trucks
What's the best place in America to buy a Custom Truck or 4×4? Have you heard about the awesomeness of Rocky Ridge vehicles? When you're looking for the best deal on the best custom truck or 4×4, Sherry 4×4 is the place to go.
Browse at Home
Sherry 4×4 sells and delivers the entire line of Rocky Ridge RAM Trucks and Rocky Ridge Jeeps. You can easily browse for a vehicle from the comfort of your own home with Sherry 4×4's extensive selection of online photos and videos.
Custom Trucks and Lifted Jeeps
Sherry 4×4 has a huge inventory of trucks and lifted Jeeps for sale. Rocky Ridge RAM trucks offer features such as a 6" suspension kit, 20" custom wheels, a Flowmaster muffler, 37" Mickey Thompson ATX tires, power side steps, stealth lined pocket style fender flares, leather seating, custom headache rack with 50" [...]
Lifted Rocky Ridge Altitude RAM Trucks Now For Sale At Sherry4X4
Paul Sherry and Rocky Ridge. Two family owned and family operated businesses unite. Rocky Ridge's "Altitude" conversion package, for the Ram pick-up truck is now available at Sherry4x4.com. Potential buyers of Lifted Trucks and Lifted Jeeps will undeniably benefit from this opportunity. Each company consistently provides superior customer service, delivers the highest quality vehicles with unparalleled technical support and service.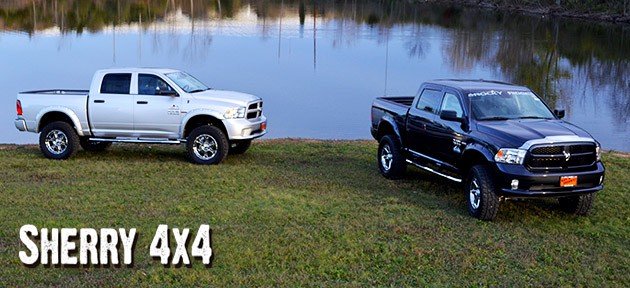 The Rocky Ridge "Altitude" Conversion Package For The RAM 1500 Includes:
Rocky Ridge 6" Suspension Lift Kit

Front Lift Steering Knuckle
Front and Rear Cross Members
Pro Comp Performance Rear Shocks

20" Premium Chrome Wheels
37" Mickey Thompson Baja ATZ P3 Tires
Road Force Wheel/Tire Balancing
Wide Oval Chrome Tube Running Boards
Pocketed Color [...]