#1 Rocky Ridge Jeep Dealer in the Country, Again!
September 17, 2021

Posted by

Emily Young
Comments Off

on #1 Rocky Ridge Jeep Dealer in the Country, Again!
The results are in! Sherry 4×4 is once again the top Rocky Ridge Jeep Dealer in the country. Without our large inventory, our customization process, our experienced sales team, and our dedicated customers, none of this would be possible. On behalf of everyone at Sherry 4×4, thank you for making us the #1 Rocky Ridge Jeep Dealer in the Country, again!
Largest Inventory of Rocky Ridge Jeeps
The Sherry 4×4 team is proud to have the largest inventory of Rocky Ridge Jeeps in the country. Our close relationship with Rocky Ridge allows us to stay on top of the latest and greatest they have to offer. We are constantly updating our inventory online and bringing the customer exactly what they want. 
Our large inventory allows us to carry a wide range of makes and models, with a variety of colors, trims, and Rocky Ridge conversions. No matter what you are looking for, we are sure to have it. And if we don't, well then you can custom order it with us.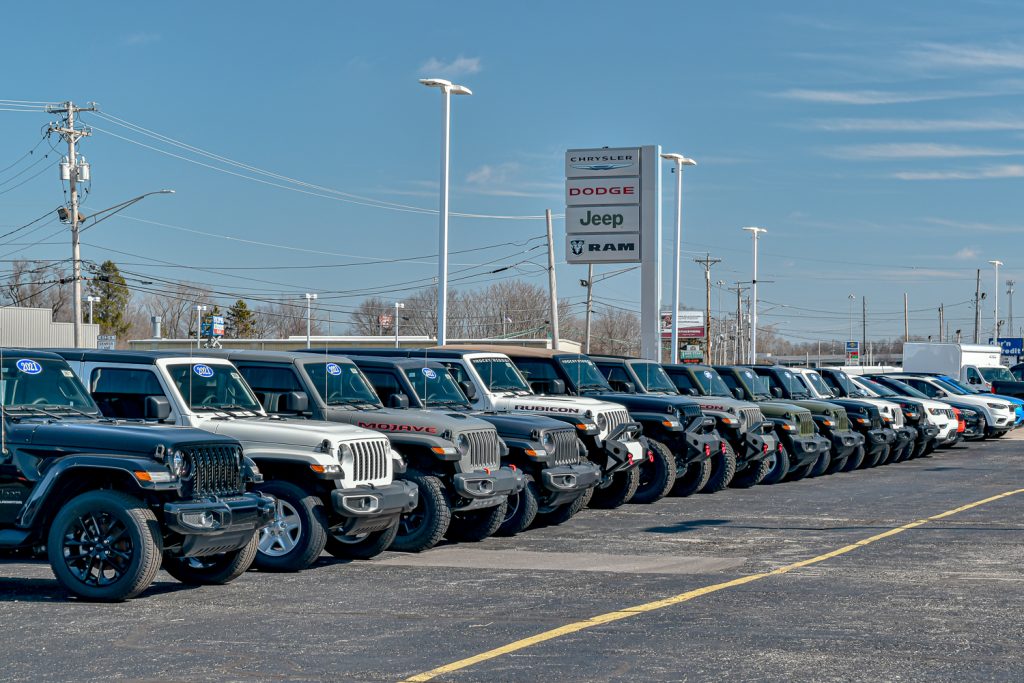 Custom Order your Rocky Ridge Jeep
Sherry 4×4 has a streamlined customization process that makes creating your dream lifted Jeep easy and affordable. We are a licensed Jeep dealership meaning we are always on top of the latest releases. You can currently choose between any 2022 Jeep Wrangler or Gladiator! Not only do we have the latest Jeeps available, but we also have the latest Rocky Ridge lift kits available too. 
We have the Jeep Wrangler Adrenaline, K2, Pinnacle, Mad Rock, Stealth, and Summit packages available. We also have the K2 package available for your Jeep Gladiator. As an official Rocky Ridge dealer, we are able to provide you with a quality vehicle and a quality lift kit.
With our customization process, you can choose the Jeep and lift kit that is best suited to your needs. We also have additional upgrades that we can make to your Jeep or Rocky Ridge lift kit. Whatever you want, we can create it for you.
Experienced Sales Team
The members of our experienced sales team at Sherry 4×4 are lifted Jeep experts. Our staff is knowledgeable and friendly, meaning we can help you through every step of the Jeep buying and lifting process. We are always available to answer your questions, and we can help you determine the Jeep and lift kit combination that is best suited to your lifestyle. 
Not only is our sales team amazing, but our finance and mechanic team are too! Our finance team can help you find a payment plan that works for your budget. And our mechanic team will help you maintain and repair your lifted Jeep even after you have driven off our lot.
Sherry 4×4—The #1 Rocky Ridge Jeep Dealer in the Country
With our up-to-date inventory, easy customization process, and knowledgeable staff it is no wonder that Sherry 4×4 has become the #1 Rocky Ridge Jeep dealer in the country. At Sherry 4×4 we treat you like family. To our customers, thank you for making us the #1 Rocky Ridge Jeep Dealer in the Country, again! For new customers, call us (866) 521-5711, stop by our Piqua dealership, or visit our website today to find out why we have earned our title.