What Is A Lifted Jeep?
August 25, 2021

Posted by

Ryan
Comments Off

on What Is A Lifted Jeep?
Jeeps are notorious for their off-roading capabilities, but even a standard Jeep has its limits. With a lift kit, your Jeep can reach whole new heights. A lifted Jeep is a Jeep that has been modified to have more ground clearance and more clearance for your tires. Lifted Jeeps make off-roading and mudding easy and worry-free. At Sherry 4×4 we believe that your adventures shouldn't stop because your car can't get you there. So, if you are on the fence about a lifted Jeep allow us to ease your worries.
Types of Lift Kits
There are two main types of lifts for a Jeep–a body lift, and a suspension lift. A body lift is going to raise the body of the Jeep away from the frame. This creates a cooler look, better vantage points while driving, and allows for larger tires to be added. A body lift isn't going to alter your suspension, so it won't be as difficult to adjust to.
A suspension lift is more involved and raises the entire frame/suspension of your Jeep. Raising the suspension causes the center of gravity to shift, making it more difficult to drive, but increases your Jeep's off-roading abilities. 
Within these two types there is a wide range of kits available that are built to suit your exact needs. Overall, a body lift is designed for daily driving and light off-roading, while a suspension lift is meant for more intense and dangerous off-roading.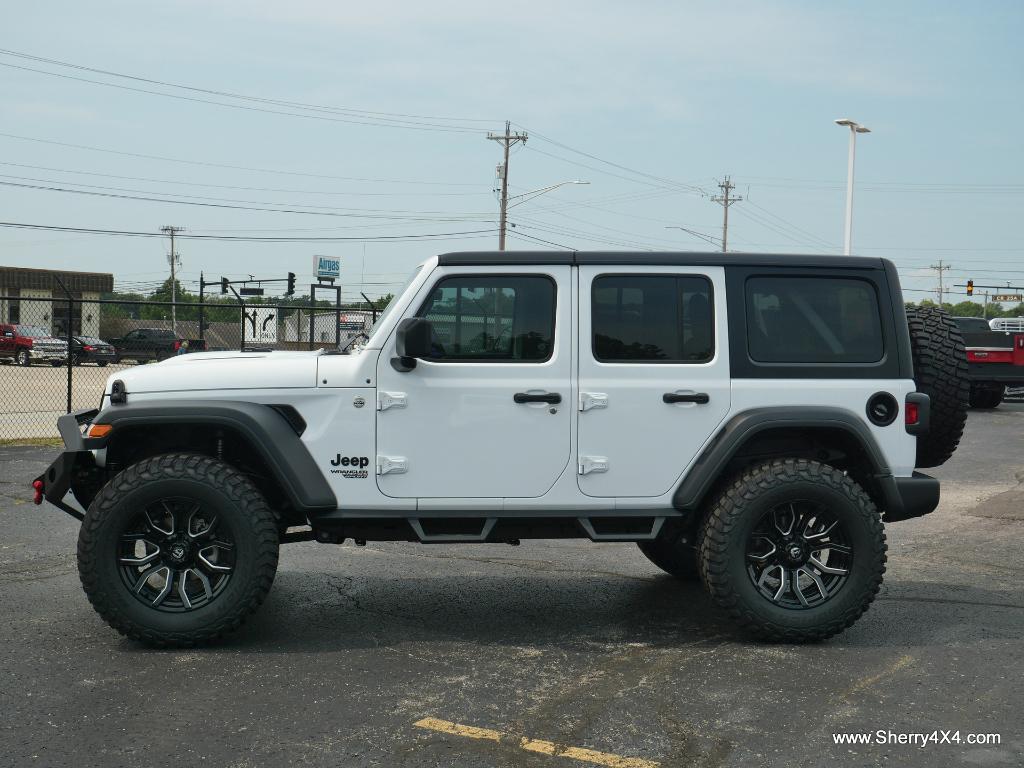 What are the Benefits of a Lifted Jeep Wrangler or Gladiator?
So, what are the benefits of a lifted Jeep Wrangler or Jeep Gladiator? Well, if you are like us, the benefits of a lifted Jeep Wrangler or Gladiator outweigh the cons. The lifted Jeep Wrangler not only looks sleek and intimidating but it also provides you with better visibility on and off the road. The Jeep Gladiator, is the only open-air pickup truck on the market. With a lifted Jeep Gladiator you will have all the benefits of the lifted Jeep Wrangler, plus all the benefits of a pick-up. Now you can do all your off-roading, mudding, without all your stuff getting left behind. Explore hidden places and bring/tow all your essentials with you. In general, lifting your Jeep Wrangler or Jeep Gladiator allows for better offroading, better crawling capabilities, better shocks, and less rollovers.
Better Off Roading 
The standard Jeep Wrangler/Gladiator is able to take on some pretty rough terrain, but adding a lift makes it's off-road performance even better. A raised body will prevent the underside of your Jeep from becoming damaged, and allows for better performing/bigger tires to be installed. Bigger tires allow for better traction and handling which means you can take on pretty much any climbs you come across. 
Better Crawling Capabilities
With a lifted Jeep, your crawling capabilities are much better and easier. Most lifts increase your Jeep's height by 2-4 inches, but some can increase it by up to 8 inches. With that much ground clearance the underside of your Jeep is nearly untouchable. Even large boulders won't be able to prevent your crawling. 
Better Shocks
Lifting your Jeep's suspension means changing to more sturdier and heavy-duty shocks. What does this do? It makes your landings softer and less intense. Now, when coming down from a steep ledge, you are able to land without worrying about damaging your Jeep. 
Less Rollovers
For those of you who do some serious off-roading, lifting your suspension and outfitting your Jeep with better tires is going to prevent rollovers. These two changes shift your Jeep's center of gravity, which can prevent your Jeep from becoming too top heavy and rolling over. This center-of-gravity change can be a little hard to get used to and may not be ideal for daily driving. 
Ready to Buy a Lifted Jeep or get a Custom Lift?
Now that we have eased your worries and answered some questions, are you ready to buy a lifted Jeep or get a custom lift? At Sherry 4×4 we have a huge inventory with anything you could want. And if you can't find it, we will custom make it for you! 
We have pre-lifted Jeep Wranglers and Jeep Gladiators available outfitted with the K2 Rocky Ridge Truck Lifts. This lift package includes a 6 inch suspension lift, 37 inch all-terrain tires, rear shocks, and a system recalibration. All of our Jeeps come ready to take on your adventures. Visit us online or in-person today, and drive off with a sleek new model with all your lift dreams.