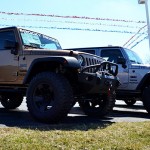 Premium Rocky Ridge Jeep Wranglers Now Available at Sherry 4×4
Sherry 4×4 now has brand new, lifted Jeep Wranglers in stock, which are versatile off-road vehicles with a variety of capabilities. Whether it's rocky, forested terrain or the desert, Jeep Wranglers are capable of taking passengers on a fun ride.
Detailed pricing information and vehicle specs are listed on the Sherry 4×4 website, where customers can view photos of Jeeps and trucks and browse available models. Customers can also view financing options and ask questions of company personnel, via the web. Sherry 4×4 can even deliver Jeeps right to customers' homes, if they decide to make a purchase over the web.
Sherry 4×4 can enhance the performance of Jeep Wranglers by performing conversions, which includes lifting suspensions, installing larger wheels and adding tire packages with aggressive tire treads. Other enhanced features include heavy duty bumpers and running boards, along with extras that can improve the [...]