2022 Lifted Jeeps For Sale
June 2, 2022

Posted by

Alysia W.
Comments Off

on 2022 Lifted Jeeps For Sale
Looking for the latest and greatest from your favorite brands? Sherry 4×4 carries 2022 lifted Jeeps in a wide range of models and lifting packages. Discover our easy financing process and factory order your new lifted Jeep to be delivered directly to your home. 
Large Inventory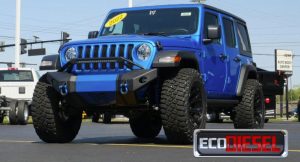 Sherry 4×4 has one of the largest inventories of lifted Jeeps for sale in Ohio. As a certified Jeep dealership, we have access to all of the newest models meaning you have a range of options to choose from. We carry all of your favorite models with various trim packages, colors, lift options, and more! 
In addition to a large inventory of different Jeeps, we also partner with a number of lift manufacturers to offer a range of lift kit options. This includes popular brands such as SCA Performance, Rocky Ridge Trucks, RMT Overland, and more. Find your dream 2022 lifted Jeep at Sherry 4×4. 
Easy Financing Process
In addition to our large inventory, Sherry 4×4 offers an easy financing process. Sherry 4×4 is an experienced lifted Jeep dealer and only works with experienced lenders. Because of this, we are able to offer competitive lifted Jeep financing options that work for your budget. 
Since we don't want our expertise to be limited to the Ohio area, we have put our financing application online. The online financing application only takes a few minutes to complete. So, no matter if you are custom-ordering or purchasing a lifted Jeep in our inventory, our friendly staff can help you through any step of the process.  Once you are done, you will be offered a number of financing options.
Factory Order 2022 Lifted Jeeps
Factory ordering a 2022 lifted Jeep with Sherry 4×4 gives you access to a range of savings, customizable options, and fast manufacturing. As a certified Jeep dealership, Sherry 4×4 can offer factory ordering of new and customized Jeeps to its customers. This means you get access to factory-direct pricing and locked-in incentives/rebates. 
In addition, because factory-direct Jeeps have already been sold, you don't have to wait as long for your Jeep because your order is pushed to the front of the line and stock units are pushed back. Similarly, with factory-direct ordering, you get access to a variety of customizable options that were not previously available. At other dealerships, there are a limited number of Jeeps with the color/features you want. Instead of settling for an option that isn't exactly what you want, you can get the exact colors and features by factory ordering with Sherry 4×4.
Delivery Arrangements
We go above and beyond for our customers. In order to do this, we can help make delivery arrangements for our customers. Live in another state? Can't make the drive? The Sherry 4×4 team will work with the delivery provider of your choice to make arrangements for your new 2022 lifted Jeep to be delivered right to your door. 
Find 2022 Lifted Jeeps at Sherry 4×4
So, what are you waiting for? Our team is ready to help you find the lifted Jeep that meets your needs and budget. With our free quote, you can see just how much your new Jeep will cost and what it will look like. You can call us (866) 521-5711, visit us online, or stop by our dealership today! Our team is ready to get you into one of our new 2022 lifted Jeeps today!