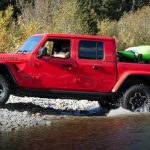 It's been eight years since Fiat Chrysler Automobiles discontinued the Dodge Dakota and Jeep hasn't produced a pickup truck since the XJ-based Comanche two-door bit the dust back in 1992.
So when Jeep announced they were creating a new pickup based on the hugely popular Jeep Wrangler JL, and gave us a sneak peek at the 2018 Los Angeles Auto Show, it would be fair to say that we got a little excited.
The new Jeep Gladiator keeps all the things you loved about the Wrangler and adds a roomy 5-foot bed, fierce off-road performance, tremendous towing power, and enough bells and whistles to keep any truck-head happy. You can even get a lifted Jeep Gladiator.
So if you are looking to a midsize pickup truck with a single cab configuration and have been anxiously waiting to find out if Jeep's new baby is the truck for you, then your waiting is over! Here is [...]

After years of enthusiast requests and months of teasing, Jeep finally unveiled the Jeep Gladiator truck that is complete with amazing capabilities. The Jeep Gladiator is essentially a Wrangler but in pickup truck form, giving you all of the capabilities, styling, and other features of the Wrangler SUV but with the added versatility of a pickup truck.
Just like Rocky Ridge offering a range of lifted conversions for the Jeep Wrangler, it does the same for the all-new Jeep Gladiator. This way, you can enjoy the features that Jeep built right into the Gladiator as well as all the updates that you love from the Rocky Ridge conversions.
Add Rocky Ridge Jeep Wrangler Packages to Any Jeep Gladiator
Since the all new lifted Jeep Gladiators for sale are heavily based [...]