Posted by

Alysia W.
Comments Off

on Can You Buy a Jeep Already Lifted?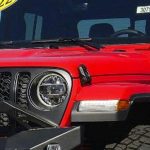 Lifted Jeeps are popular vehicles for a variety of reasons, including increased visibility and sheer "cool factor". But lift kits aren't the only ways to enjoy driving one of these beasts. In fact, you might consider purchasing a Jeep that's already lifted.
Why Buy a Lifted Jeep?
Lifted Jeeps are at the top of the 2023 to-buy list for lots of car enthusiasts. But why? There are tons of reasons why you might enjoy driving a lifted Jeep, including:
Lifted Jeeps drive similarly to non-lifted Jeeps, offering excellent handling and off-road capabilities
Lifted Jeeps, when maintained well, have excellent resale value. You can drive a lifted Jeep around for a while, then sell it for a good bargain when you're done
Phenomenal off-road capabilities. Compared to other Jeeps, lifted Jeeps have extra ground clearance, so you don't have to worry as much about obstacles you might come across. [...]