How Much Does It Cost To Lift A New Jeep Wrangler?
May 21, 2021

Posted by

Ryan
Comments Off

on How Much Does It Cost To Lift A New Jeep Wrangler?
Lifting the Jeep Wrangler has become a popular practice with new Wrangler owners. Lift kits allow higher ground clearance, more rugged looks, and other additions that enhance the Wrangler's style. But how much does it cost to lift a new Jeep Wrangler? The answer varies depending on the brand, lift kit type, and installer, but this guide will help you know what to expect if you're interested in a lifted Wrangler.
How Much Does It Cost to Lift a New Jeep Wrangler?
On average, you can expect to pay anywhere from $1,000 to $20,000 for a Jeep Wrangler lift. However, how much you pay depends mostly on the type of lift kit you choose. Different brands of lift kits and suspension heights can significantly impact how much you pay to lift your new Jeep Wrangler.
Types of Lift Kits and Cost Differences
Lift kits for the Jeep Wrangler come in different forms, from simple suspension lifts to heavy-duty lifts designed for the most adventurous offroading. Depending on the type of lift kit you choose, you could be looking at the lower or higher end of the average installation cost or anywhere in between.
Complex lift kits that lift suspension higher and feature more components, like exterior styling and functionality enhancements, will cost more than simpler lifts that only lift a Jeep an inch or two. In general, the more a lift kit includes and the more components it alters, the pricier it will be.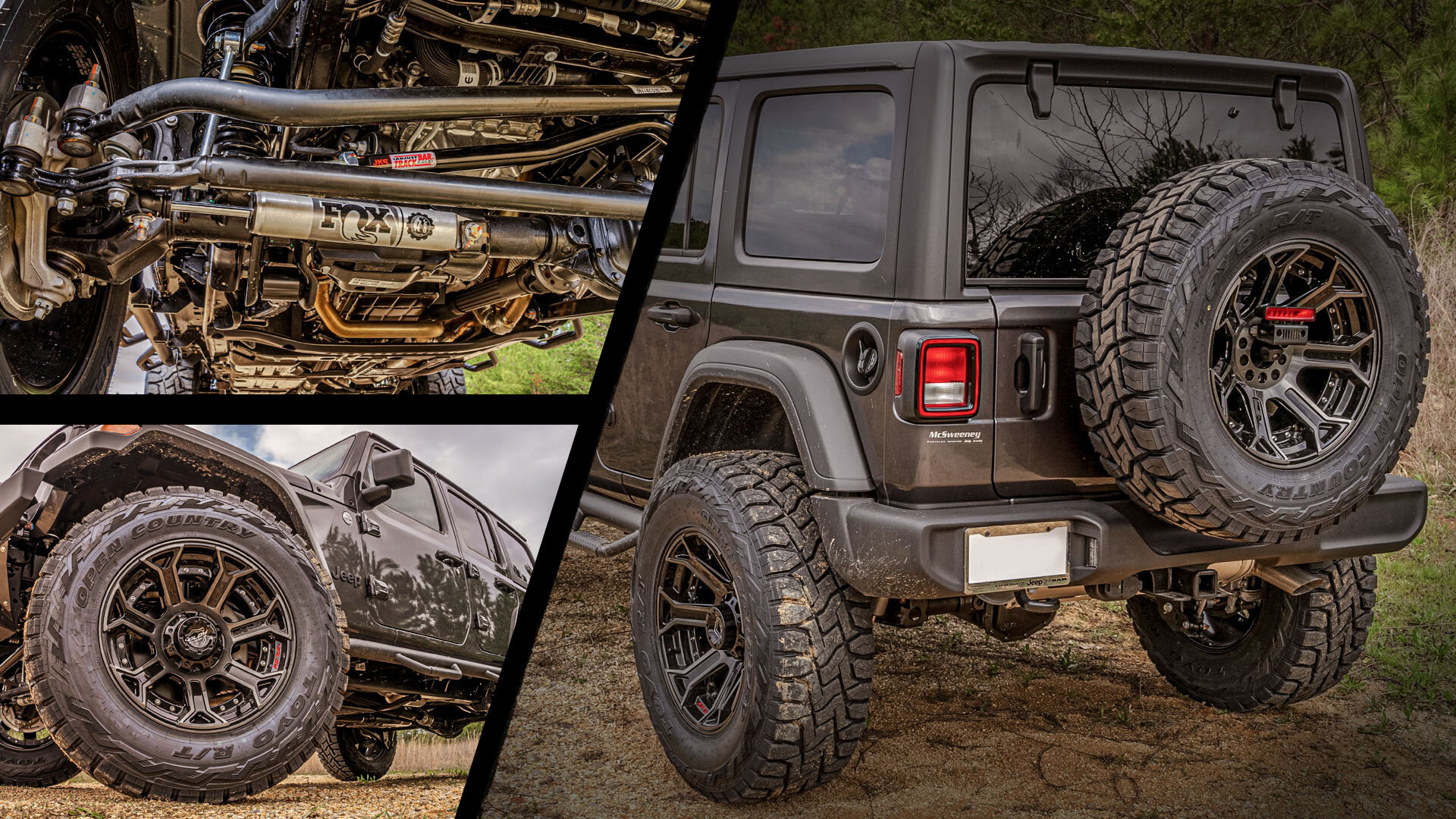 Jeep Wrangler Lift Kit Cost FAQs
Have more questions about lifted Jeep Wranglers and what you can expect to pay for your lift kit? We have the answers.
How much does it cost to install a 2.5 lift kit on a Jeep Wrangler?
Jeep Wranglers can get lift kits ranging anywhere from two to six inches. Some brands, like Rocky Ridge, offer lift kits in half-sizes, like its 3.5-inch K2 suspension upgrade. Generally, the higher the lift, the more you'll pay, simply because the installation process gets a little more complicated with every inch. 
Life kit manufacturers usually offer kits in various sizes to not only make sure customers get the appearance and function they're going for, but also to provide different options for all budgets.
Are lift kits bad for Jeeps?
When installed correctly by experts who are experienced in lifting Jeeps with high-quality lift kits, a lift kit isn't bad for your Jeep Wrangler. Always make sure you're working with an installer that's certified to work with the lift kit you want installed.
At Sherry 4×4, we work with Rocky Ridge to bring you some of the best lift kits in the industry. Plus, our service team is highly trained and qualified to work with these kits, so you can rest assured that your Jeep Wrangler is in good hands.
Does a lift kit void my warranty?
If you purchase a lift kit and get it installed through a dealership, you will not void your Jeep manufacturer warranty. An experienced dealership that works with lift kits will know how to install the kit properly to avoid any problems with your warranty. However, adding a lift kit yourself to your Jeep Wrangler will void its warranty.
Additionally, top lift kits from brands like Rocky Ridge and Jeep Performance Parts include a warranty on all lift kit parts and altered parts of your vehicle, like its suspension. Therefore, if anything goes wrong with the lift kit or its altered components, those components are covered.
Lifted Jeep Wranglers at Sherry 4×4
At Sherry 4×4, we feature brand-new lifted Jeep Wranglers in our inventory. We also offer custom builds for anyone who knows exactly what they want in their new Wrangler. We provide nationwide delivery and a variety of financing options to all qualifying customers. Give us a call today at (866) 521-5711 to learn how we can help you get your new lifted Jeep Wrangler.