Posted by

Ryan
Comments Off

on How Much Does It Cost To Lift A New Jeep Wrangler?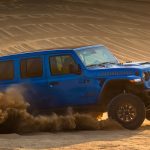 Lifting the Jeep Wrangler has become a popular practice with new Wrangler owners. Lift kits allow higher ground clearance, more rugged looks, and other additions that enhance the Wrangler's style. But how much does it cost to lift a new Jeep Wrangler? The answer varies depending on the brand, lift kit type, and installer, but this guide will help you know what to expect if you're interested in a lifted Wrangler.
How Much Does It Cost to Lift a New Jeep Wrangler?
On average, you can expect to pay anywhere from $1,000 to $20,000 for a Jeep Wrangler lift. However, how much you pay depends mostly on the type of lift kit you choose. Different brands of lift kits and suspension heights can significantly impact how much you pay to lift your new Jeep Wrangler.
Types of Lift Kits and Cost Differences
Lift kits for the Jeep Wrangler come in different forms, from simple suspension [...]