Posted by

Ryan
Comments Off

on Hybrid Lifted Jeep Wrangler Now Available To Buy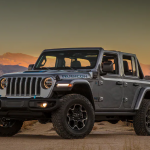 Customizing a Jeep Wrangler 4xe is essential for people purchasing the newest model, and a lift kit may be added for the ultimate off-roading experience. Get the Jeep you want, and it will look good, too.
The open-air style provides freedom unlike other vehicles. The hybrid Jeep Wrangler innovation offers plug-in capability to add to your adventure, and a lifted Wrangler is even better at off-roading because of its higher suspension.
What are the benefits of having a Jeep Wrangler 4xe lift kit? Here are reasons to consider getting one:
Increasing the Ride Height of Your Hybrid Jeep
The higher up your ride in your Jeep, the more terrain you are able to tackle. This is important for off-roading and for those who live in remote places. Wrangles can't clear every obstacle in the off-roading world, but higher lift will mean handling tougher spots better. The lift kits offered by Sherry 4×4 will enhance your [...]