Posted by

Ryan
Comments Off

on Rocky Ridge Jeep Bumpers: How Do I Get Them?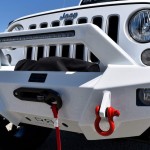 If you love lifted Jeeps, then you probably have heard of Rocky Ridge Trucks and admire their bumpers. Although they are just a single part of the lift kit, many people find themselves wishing they had a Rocky Ridge bumper on their Jeep to help show off the vehicle's toughness. If you find yourself in this boat, read on to discover how to get them.
Only Available with a Kit
Unfortunately for those who want the Rocky Ridge bumpers on their Jeep but don't necessarily care about the rest of the lift kit, they are not available as a separate option. Instead, you have to get the entire lift kit, which includes the stylish bumpers that let everyone know your Jeep is tough.
Where to Get the Lift Kit
Because Rocky Ridge prides itself on high-quality products installed by professionals, you can only get the lift kits via an official Rocky Ridge dealer like Sherry [...]