Posted by

Ryan
Comments Off

on Charlie Mike Jeep: What the Name Means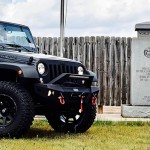 Take a look at the Rocky Ridge lineup available at Sherry 4×4 and you will notice a new addition, the Charlie Mike Jeep. This is the latest Rocky Ridge conversion to an existing Jeep Wrangler. People unfamiliar with military terms are frequently left wondering what exactly the name means.
A Military Term
People familiar with military terms may already know what Charlie Mike means while the average person probably will not. Charlie Mike is a common code for Continue Mission used when Special Operations talk on the radio to troop members or commanders. It applies to the Green Berets, Navy SEALs, Marine Force Recon, and more. Simply put, Charlie Mike means to keep moving forward and complete the mission no matter what, without giving up.
Living Up to Its Name
Now that you know that Charlie Mike means completing your goals without ever giving up, it makes perfect sense that a lifted and highly capable [...]