Posted by

Ryan
Comments Off

on Why You Should Use a Dealership to Service Your Lifted Truck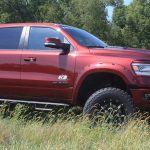 Why You Should Use a Dealership to Service Your Lifted Truck
Lifted trucks require knowledgeable technicians to handle repairs and maintenance to keep your vehicle in safe, working condition. Although you might find it more convenient to take your truck to a mechanic down the road, you might want to opt for a dealership that knows how to handle the intricacies of a lifted truck to ensure that it's ready for the road.
When you choose to bring your lifted truck to a dealership for service, you get:
Knowledgeable, Trustworthy Mechanics
All mechanics that work in the Sherry 4×4 dealership's service departments come to us as skilled and highly-trained technicians. But we don't stop there. We continue to train and improve the skillset of our mechanics so that they know how to handle a variety of situations, from troubleshooting to massive repairs and installations.
When you bring your lifted truck to Paul Sherry for servicing, [...]