Posted by

Ryan
Comments Off

on Buy Your Next Custom RAM Truck with eTorque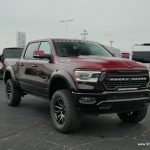 What is RAM eTorque?
RAM eTorque is a new technology feature that enhances the efficiency of a RAM Truck's system. An engine with eTorque generates electrical energy to feed back to the truck's battery pack, adding power for towing and hauling and torque when it shifts. Basically, it uses what otherwise would be wasted energy. The eTorque system in a lifted RAM Truck is stored in a battery pack that supplies electrical loads and charges the starter battery. Its motor-generators use an accessory drive belt to change the speed of the truck, which is better than an alternator's drawing power. The RAM eTorque system is relatively new in the United States.
What are the benefits of eTorque?
With gas prices on the rise, eTorque makes the truck a mild hybrid and will help keep the owner's fuel costs lower. The stop-start system helps save fuel when the truck isn't moving at stoplights, in high-volume traffic [...]