Posted by

Ryan
Comments Off

on Lifted 2019 RAM Trucks Now At Ohio Dealerships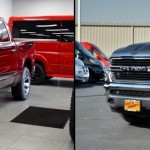 The wait is finally over. The lifted 2019 RAM lifted trucks are finally in, and you can get yours now. These trucks have some cool features that weren't available in the 2018 model, so you'll definitely want to check them out. If you're a fan of the RAM, expect to feel even more love for the 2019 model. It's better than ever before.
2019 RAM Truck – What's New?
The RAM 1500 has long been known as the most comfortable ride you'll ever experience in a truck. The 2019 model keeps the comfort the truck is known for while adding some extras you won't want to miss. The new RAM is more powerful and lighter than previous models, and it also has some new technology.
Let's start with towing capabilities. The 2019 model can tow and carry more. In fact, it has best-in-class V8 towing, with a rating of 12,750 pounds. The new model also [...]
Posted by

Ryan
Comments Off

on Future Changes for the Jeep Wrangler in 2018 and 2019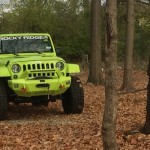 The Jeep Wrangler is most definitely a leader when it comes to off-roading SUVs, and this model can do more than just take you off the beaten path. The Wrangler is stylish as well as capable and available with the latest features. While you know and love the current Jeep Wrangler, you should start getting excited about the 2018 and 2019 models. Sneak peeks have begun to arrive, giving us a good idea of what changes to expect. Remember that this will be the first full makeover for the model since 2007, meaning you should expect some impressive differences.
Pickup Truck Version
One of the things we do know about the upcoming all-new Jeep Wrangler is that there will be a pickup truck version whose name hasn't yet been released. It will be based on the four-door Wrangler Unlimited and should debut in early 2019 after the all-new Wrangler SUV.