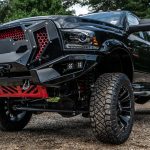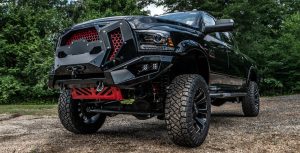 Rocky Ridge is known for making highly capable lifted trucks and Jeeps that deliver an aggressive appearance, leaving no doubt as to what they can do. In the near future, the RAM Truck Mad Rock Edition will be joining the lineup, bringing the Mad Rock appearance package to the reliable 2018 Ram 3500 Laramie Mega Cab. The base version of this RAM pickup already has a 6.7-liter Cummins engine known for its impressive torque and capabilities, fueling your off-road adventures.
6 Inches of Lift
With the all-new Rocky Ridge RAM Truck Mad Rock Edition, you get a full 6 inches of lift. This includes 22-inch fuel wheels plus 37-inch tires. With that extra lift, it is easy to get over any obstacle, whether you are on the road or hitting a remote trail [...]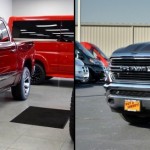 The wait is finally over. The lifted 2019 RAM lifted trucks are finally in, and you can get yours now. These trucks have some cool features that weren't available in the 2018 model, so you'll definitely want to check them out. If you're a fan of the RAM, expect to feel even more love for the 2019 model. It's better than ever before.
2019 RAM Truck – What's New?
The RAM 1500 has long been known as the most comfortable ride you'll ever experience in a truck. The 2019 model keeps the comfort the truck is known for while adding some extras you won't want to miss. The new RAM is more powerful and lighter than previous models, and it also has some new technology.
Let's start with towing capabilities. The 2019 model can tow and carry more. In fact, it has best-in-class V8 towing, with a rating of 12,750 pounds. The new model also [...]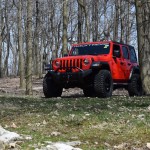 Rocky Ridge trucks offer a range of lifted Jeep models to choose from, with current offerings including the Adrenaline, K2, Pinnacle, Stealth, and Summit. Each has its own unique style and features, but all provide a reliable lifted Jeep that will take you off-road with style or just help you see around obstacles on the road. Here are some of the top-selling 2018 lifted Jeep models worth your consideration.
Jeep Wrangler K2
The Jeep Wrangler K2 is named after a mountain that is among the tallest in the world and nicknamed "Savage Mountain." Rocky Ridge created this lifted Jeep with the goal of being able to scale that tough mountain – if you dare. The package begins with a 3.5-inch Rocky Ridge Sport Suspension Lift Kit with 2.0 dual tube shocks, a high steer conversion, e-coated high-performance coil springs, Rocky Ridge's Pure Drive Technology, replacement sway bar end links, and more. From there, it gets [...]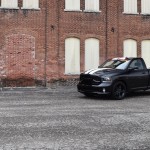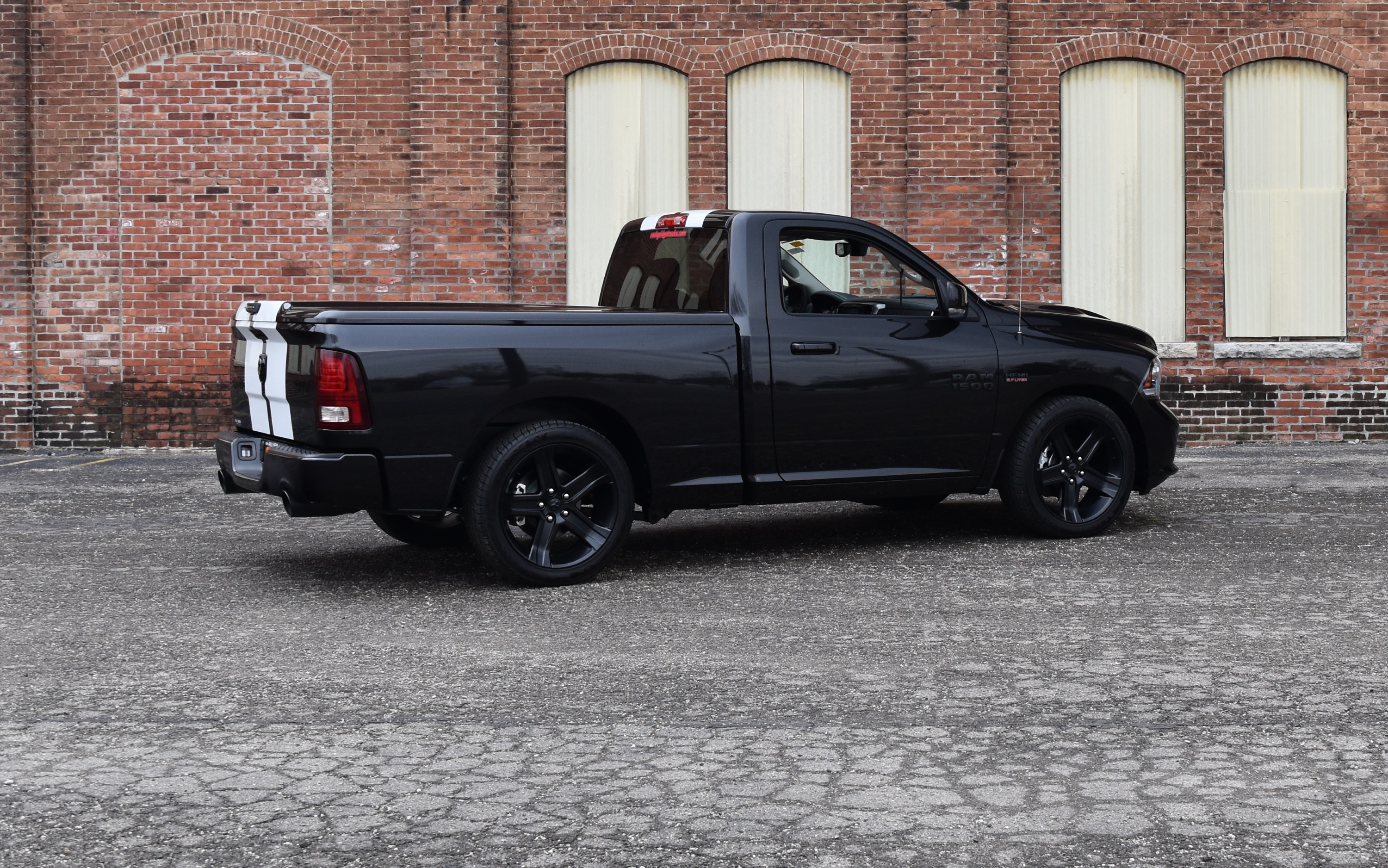 Rocky Ridge has more than three decades of experience delivering high-quality durable and practical conversions that have a heavy dose of style. The latest addition is the Rocky Ridge RAM Muscle Truck, now coming to Ohio. Unlike most Rocky Ridge conversions, this is not a lift kit. Instead, the Muscle Truck delivers power, other performance upgrades, and styling to let others know what your truck is capable of.
Who Will Love the Rocky Ridge RAM Muscle Truck
Anyone who is in search of the ultimate power in their RAM will love the Rocky Ridge Muscle Truck. The supercharger is sure to deliver all the power that you want. Those looking for some extra style and a sportier ride will also enjoy this new conversion, especially with its lowered suspension. [...]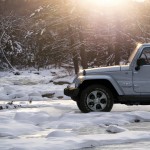 Soon, you will be able to drive the lifted Jeep Wrangler JL around town or in the middle of nowhere. The latest generation of the Wrangler, the JL is filled with improvements and various enhancements to make it better than ever before. You can get the Wrangler JL with any of the Rocky Ridge conversion packages once it arrives, meeting the needs of everyone looking for a lift kit for their Jeep.
What Makes the Wrangler JL Unique?
The Wrangler JL is unique due to the fact that it is a whole new generation, involving some significant changes for the 2018 model year. The all-new Wrangler JL actually looks very similar to the previous generation until you look at the details. The windshield rake is more extreme to help with aerodynamics, and the hood has lost some forward slope. The new model has more toning overall. You will also notice that the JL is unique [...]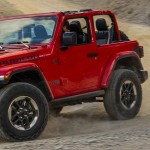 The latest Jeep Wrangler JL is here, which means you can now get a lifted version of this updated Jeep as well. With the lifted Jeep Wrangler JL, residents in Ohio and around the country get all the elements they love a suspension lift kit from Rocky Ridge combined with the new updates for the latest Wrangler.
Lifted Jeep Wrangler JL with Rocky Ridge Lift Kit
As with any lifted Jeep you get from our dealership, you will get to take advantage of a Rocky Ridge lift kit. This always includes a 3.5-inch kit that was designed by the experts at Rocky Ridge and installed by their highly experienced team. You also get Pure Drive technology for a smooth ride on or off the road by working with the factory handling and steering geometry instead of against it. Throw in features like Rocky Ridge badging, full armor bumpers, synthetic rope winches, and more, and you [...]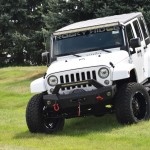 Since Rocky Ridge trucks can be hard to find at times, most drivers have numerous questions about these vehicles, from what the lift kits do to how much experience the company has. Here are some of the most frequently asked questions about Rocky Ridge Jeeps and trucks, answered to clear up your doubts.
Who Can Add a Rocky Ridge Suspension Lift Kit to My Vehicle?
A Rocky Ridge package can be added to an existing vehicle as long as it has fewer than 25,000 miles and is under two years old. However, you cannot install this package yourself. Part of the reason for Rocky Ridge's success is that the production staff has a high level of craftsmanship and experience, ensuring the safety of all conversions. Every single member of the Rocky Ridge team undergoes training and development. Even "rookies" by these standards have done nearly 1,000 installations. The company simply can't ensure the same quality [...]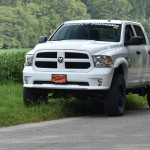 When you head to Sherry 4×4, you will be treated to our largest inventory ever of Rocky Ridge conversions, including both Jeeps and trucks. We are your destination for Rocky Ridge, regardless of what you are looking for in your upcoming model. Whether you plan on tackling those tough trails or just getting some extra height when the next major snowfall hits, our selection of Rocky Ridge trucks and Jeeps is here to offer you options.
We're the Top Rocky Ridge Jeep Dealer This Year
So far in 2017, we are the number one Rocky Ridge Jeep dealer within the United States. Considering the year is almost at an end, this is quite the feat. As the number one Rocky Ridge Jeep dealer, you can expect the best selection of lifted Jeeps from Rocky Ridge [...]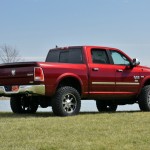 As you start exploring the various lifted trucks available on the market, you will likely notice the Rocky Ridge RAM Alpine. This is one of several conversions done by Rocky Ridge, a family-run company that has been completing high-quality conversions made to last for 30 years. Like the other RAM conversions from Rocky Ridge, the RAM Alpine begins with the RAM pickup, typically the 1500 model. This means that you can expect all the features of that vehicle, with the exception of those enhanced by Rocky Ridge.
It Starts with the Lift Kit
Since the Rocky Ridge RAM Alpine is a lifted truck, the most important adjustment to it is the lift kit. This is a Rocky Ridge coil-over performance lift kit that will give your pickup the extra height you need to clear obstacles when heading off the road. It starts with e-coated rear and front cross-members and stage II front coil-over shocks. The [...]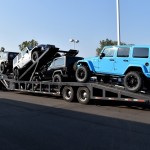 Many people nowadays shop online before purchasing a new lifted truck. That way, they can track down the perfect vehicle and a price they are willing to pay. The internet allows people to do this without burning up several tanks of gas driving all over to one dealership and then another and still not finding what they are looking for. Some people will make the transaction over the internet and then take delivery of the vehicle. This happens more often with new lifted trucks than with older ones.
Transportation Options
When the purchase of a new lifted truck is made over the internet, both the buyer and seller move into a new realm: that of determining the best, least expensive method of getting the vehicle from the seller to the buyer. This is particularly true if the buyer doesn't live in the same area as the seller. In this case, there are three options for the buyer:
[...]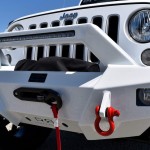 If you love lifted Jeeps, then you probably have heard of Rocky Ridge Trucks and admire their bumpers. Although they are just a single part of the lift kit, many people find themselves wishing they had a Rocky Ridge bumper on their Jeep to help show off the vehicle's toughness. If you find yourself in this boat, read on to discover how to get them.
Only Available with a Kit
Unfortunately for those who want the Rocky Ridge bumpers on their Jeep but don't necessarily care about the rest of the lift kit, they are not available as a separate option. Instead, you have to get the entire lift kit, which includes the stylish bumpers that let everyone know your Jeep is tough.
Where to Get the Lift Kit
Because Rocky Ridge prides itself on high-quality products installed by professionals, you can only get the lift kits via an official Rocky Ridge dealer like Sherry [...]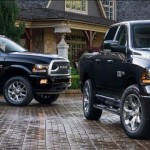 RAM will be heavily updating its pickup truck for the 2019 model year with the first look scheduled for later this year. Even with some heavy updates coming soon, the 2018 RAM truck has more than enough changes to make it worth the investment, especially if you don't want to wait. Between adjustments to existing trims and brand new special editions, there is a lot to look forward to.
New Limited Tungsten Edition
The biggest change for the 2018 RAM 1500 is the RAM Limited Tungsten Edition. This is the model those in search of true luxury in a powerful pickup have been waiting for, and it shows that FCA truly knows how to deliver when it comes to limited editions. The Limited Tungsten Edition is a limited version of the current Limited trim level that sits at the top of the RAM lineup. This new edition is available with a range of cabs and [...]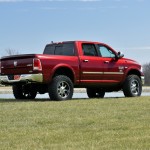 If you are in search of a lifted truck, consider buying it from Sherry 4×4. Our dealership has an excellent selection of lifted trucks as well as lifted Jeeps. Each of these conversions was carefully done to meet strict requirements and deliver the best possible lifted trucks. Discover just a handful of the reasons to get your lifted vehicle at Sherry 4×4.
Your Warranty Is Not Voided
Before you buy a lifted truck or lift a truck yourself, pay close attention to the warranty. In most cases, as soon as you make a serious modification such as lifting the vehicle, your truck's warranty is voided. That can cost you thousands of dollars down the line in repairs and maintenance that are no longer covered.
None of this is a concern when you buy from Sherry 4×4. That is because all of our lift jobs are done within the warranty. In other words, when you buy [...]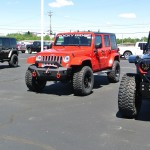 Those looking for a little more from their pickup truck only need to turn to Rocky Ridge trucks. Rocky Ridge has decades of experiencing converting some of the most popular pickups into off-road-ready models with a lift kit, enhanced suspensions, and other upgrades. It isn't hard to find reasons to buy a Rocky Ridge truck, between the experience of the conversion team, the professionally installed lift kit, the range of options, and the included warranty.
All the Benefits of a Lift Kit
Rocky Ridge conversions start with a lift kit, giving you all the benefits you would get from any other similar kit but with added confidence. The exact kit varies based on the Rocky Ridge conversion that you choose to go with, but you can expect enhancements like Rocky Ridge cross members in the front and rear, Rocky Ridge front strut tower extensions, rear coil shocks, compression struts, and brake-line relocation brackets, among others. [...]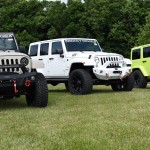 Lifted Jeeps definitely stand out on the road, and it is clear they have their advantages when you hit the trail or want to tackle tough terrain. Just because you admire them, however, doesn't mean you quite understand how they work. We're here to fix this issue and explain the suspension and other adjustments made to the Rocky Ridge lifted Jeeps we sell.
Getting to Know the Replaced Components in Front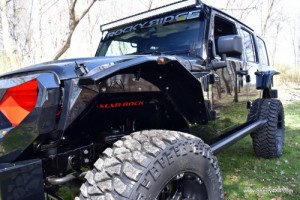 It starts with a replacement coil spring that has extra height of 3 ½ inches. Rocky Ridge makes this change to maintain the ride quality of a Jeep spring found in the factory vehicles while enhancing off-road performance. Add in a Rocky Ridge 3.0 shock absorber, which does wonders when you go off road. This absorber handles all bumps, absorbing them with ease in a way [...]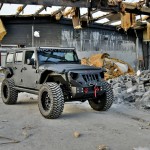 For the most reliable lifted trucks and SUVs, most drivers know to turn to Rocky Ridge models, like those available at Sherry 4×4. If you love lifted Jeeps that are highly capable and ready for adventures off the road, then you will be excited to learn about the new Jeep Wrangler Rocky Ridge Mad Rock. This is the latest Rocky Ridge conversion of the Wrangler, and it is just as reliable and tough as the others are.
Get to Know the Suspension Lift Kit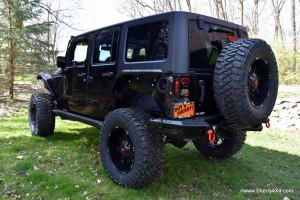 Like all other Rocky Ridge conversions, the Wrangler Mad Rock begins with a suspension lift kit. In this case, it is a 3.5-inch Rocky Ridge Sport X kit that features high-performance coil springs, a high steer conversion, and Rocky Ridge 3.0 monotube shocks. This kit also replaces [...]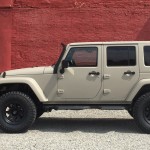 While regular Jeeps are exciting and off-road capable, some drivers simply need more than the average Jeep can deliver, even those that are Trail Rated. This is when lifted Jeeps come into play. With their added height, adjusted suspensions, and other enhancements, they are truly ready for adventure on or off the road. If you are in the market for a custom lifted Jeep, buying it from Sherry 4×4 makes perfect sense.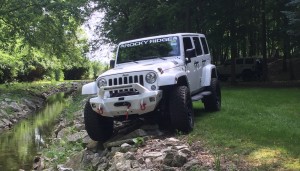 Excellent Selection of Only the Best
At Sherry 4×4, you will find an extensive selection of lifted Jeeps that offers something for everyone. We have both used and new models available and they span various model years. You can also count on the quality of our lifted Jeeps as we stock models which have been customized by Rocky Ridge, the best-respected conversion company [...]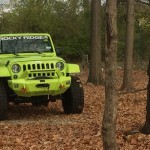 The Jeep Wrangler is most definitely a leader when it comes to off-roading SUVs, and this model can do more than just take you off the beaten path. The Wrangler is stylish as well as capable and available with the latest features. While you know and love the current Jeep Wrangler, you should start getting excited about the 2018 and 2019 models. Sneak peeks have begun to arrive, giving us a good idea of what changes to expect. Remember that this will be the first full makeover for the model since 2007, meaning you should expect some impressive differences.
Pickup Truck Version
One of the things we do know about the upcoming all-new Jeep Wrangler is that there will be a pickup truck version whose name hasn't yet been released. It will be based on the four-door Wrangler Unlimited and should debut in early 2019 after the all-new Wrangler SUV.